News
News archive
20 May 2009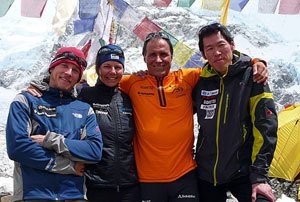 Japanese climber Hirotaka Takeuchi has just called his home team from Lhotse summit. Teaming up with Gerlinde Kaltenbrunner, Ralf Dujmovits and David Göttler, it is yet unclear whether his mates have topped-out as well.
Such being the case, Gerlinde would equal Edurne's record with 12×8000ers summited, and Ralf would become 14×8000er summiteer.
IMG Lhotse Expedition has also put three members on top today: Chhewang Lendu Sherpa of Khumjung (on his 3rd Lhotse summit), Gregory Vernovage (USA) and Philippe Robin Arslanian (France).
Source:

<a href="http://www.mounteverest.net/" target="blank">www.mounteverest.net</a>

Miscellaneous