News
News archive
6 May 2009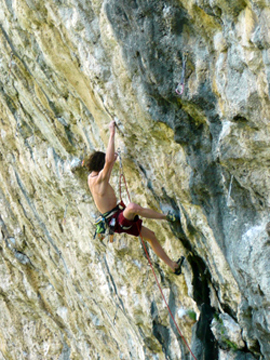 A fortnight ago Adam Ondra from the Czech Republic on-sighted Italy's first 8c, Nagay at Covolo. The 16-year-old then doubled his takings with Una Vida Nomada the same day.

Two weeks ago Adam Ondra decided to try his luck at the Italian crag Covolo, one of the areas with the highest concentration of hard routes in the country. The result, in banal numbers, is a staggering three 8b+ on-sight, the first ascent of "Super Al"e 8c+ and, above all, two 8c on-sights, "Nagay" and "Una Vida Nomada".

It must be said straight off that Covolo certainly isn't the easiest crag in the world. On the contrary, it is renowned for it's beautiful but complicated climbing. With his nth "miraculous" performance Ondra managed not only to on-sight two 8c's in a day (no one else so far has managed such a feat), he also managed the first 8c on-sight in Italy. This is an important moment thereore for hard sport climbing in Italy and this result comes five years after the historic first ever 8c on-sight at the hands of Japanese climber Yuji Hirayama who climbed White Zombi at the Baltzola Cave in Spain.

Information taken from www.planetmountain.com
Source:

www.planetmountain.com

Miscellaneous