Publications
Publications archive
Rock climbing at Yangshuo, China
25 April 2009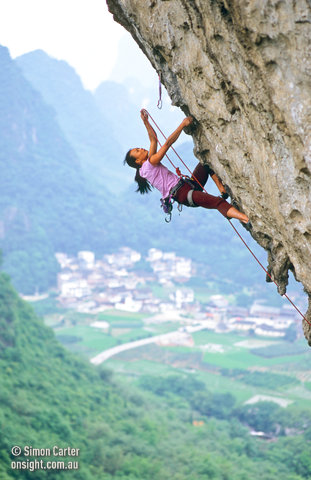 With Moon Hill, The White Mountain and 30 other crags, Yangshuo is one of the most important and interesting areas for rock climbing in China.
Yangshuo is a little-known corner of China, at present far removed from mass tourism but destined to become an unmissable destination for all those wishing to experience a region uncontaminated by consumerism which has invaded other more famous areas.
Sport climbing in Yangshuo dates back to 1986, when Germans Wolfgang Güllich and Kurt Albert and Austrians Heinz Zak and Ingrid Reitenspieß ventured into China to discover the hidden secrets of the east. A year later Andrea Gallo, Andrée Van Lierde and Michele Radici set foot in the area and even made a climbing film (entitled Acqua, Nuvole e Picchi) while in 1990 Todd Skinner, together with some fellow Americans, bolted the incredible natural arch called Moon Hill and created some spectacular routes that crossed the vault. Climbing development has not looked back since then, thanks to the incredible quantity of limestone available and both visiting climbers and locals who continue to establish new routes. At present there are circa 30 crags and roughly 350 route and this is destined to increase in the future.
The climbing itself is extremely varied and similar to that at Krabi in Thailand. The style changes considerably from one sector to the next, from vertical slabs with small crimps to rounded pockets, tufas and cracks. Furthermore, some crags have not been equipped with bolts and the routes have been ascended using trad gear, while some multi-pitch routes exist on the towers.
Most routes are circa 20 – 25m high, but some single pitches reach 40m in length. The grades are in both American and French and although most routes are in the 5a -7a region, thanks to recent activity some routes even reach the 8c mark. The sectors face all directions which means climbing is possible all day long and since many are slightly overhanging, climbing is also possible in light rain.
Yangshuo
Reach the crags either by taxi or bicycle. Taxis are fast and cheap but many drivers don't speak English, we recommend you ask for help beforehand in the hotel or bar (all sectors also have Chinese names) and indicate the sector on the map. Alternatively, hire a bicycle for circa 10 yuan/day, (circa 1€) – this is extremely tiring but the panoramic views of the incredible Yangshuo area make it well worth the effort.

General information
We highly recommend you buy the guidebook "Yangshuo, Rock Climbing" by Paul Collis, one of the most active new routers in the area. The guidebook is on sale in many local bars or online here and the proceeds go to local bolt fund for new routes and route maintenance. Many of the older sectors have been rebolted, all sport routes are well equipped, but often the routes are missing a lower-off carabiner. Always take a screwgate carabiner and some additional quickdraws for the lower-off manoeuvre.
The main street in Yangshuo is called West Street and most shops, restaurants, bars and tourist agencies are located here. Gear can be hired from many local guides and those travelling alone should be able to meet other climbers here without any problem whatsoever.
How to get there
Reach Yangshuo via the city Gulin, which in turn is usually reached from Beijing, which requires a visa. Alternatively, fly to Hong Kong then either
1. fly directly to Gulin or
2. take a train or boat to Shenzen, then continue to Guilin by plane or train. Visas can be obtained in Hong Kong. Once in Gulin take a slow but cheap bus (circa 30 yuan, 3 €, 3 hour journey) or a faster and more expensive taxi (circa 200 yuan, 20 €, 1.5 hours).

Rock climbing is one of the main sports in Yangshuo but certainly not the only one! The unique countryside and few cars make it ideal for cycling; mountain bikes and tandems can be hired cheap in town. Bamboo Rafting is another exciting activity – descending white water rapids in bamboo boats is an unforgettable experience.
There are many picturesque walks and the town is surrounded an intricate network of paths which cross the rice fields and lead through a rural countryside reminiscent of times gone by. The path with connects Xing Ping to Yangdi, via the shores of "Li River" (in Chinese "Li Jiang") is highly recommended.
Yangshuo still maintains many of its antique traditions such as cormorant fishing. Every evening various agencies organise boat trips to watch the fishermen follow the cormorants and remove the fish from their beaks. This may seem violent but at the end of the "tourist demonstration" the fishermen allow the cormorant to eat the fish.

Information taken from www.planetmountain.com
Author:

Federico Furia & Laura Mandolesi

Photo:

Simon Carter

Source:

www.planetmountain.com