Publications
Publications archive
Tuyuk-su Mountaineering School
13 June 2011
The idea of creating a mountaineering school emerged in the fall of the 2010 year. It had always been in our minds but finally it formed and consolidated by that time only. While drinking a cup of tea with Sanya Sofryginym at a cozy winter evening at Tuyuk-Su, we decided: There is gonna be a mountaineering school! What was said – was done. Yervant Tikhonovich Ilyinsky gave the green light, and we began to work. We prepared a proposal and made an annoncement to the climbers. Winter time in the mountains is hursh, so we also prepared an accomodation in advance.
We got quite a lot of applications – over 40, however only 28 of them arrived, which was not so bad in general. People came from different regions of Kazakhstan: Almaty, Astana, Karaganda, Temirtau, Petropavlovsk, Ust-Kamenogorsk, Shymkent. Because of such a climbers' influx, we had to negotiate on housing with neighboring camps, since two of our house could not fit all participants. We had to rent Almaty Rescue Service's winter tent, and adapt it for the kitchen-dining room. In the end, we accomodaded and settled.
Vlad Chexlov and Sanya Stepanov, two good instructors from Karaganda, came together with local participants. They led the beginners and neophytes. I got an older group. Unfortunately, Sanya Sofrygin, one of the ideological leader and organizer, was unable to take part in the first session of the camp, because of Kazakhstan Mountain Club expedition to Khan-Tengri, which started in early January. Nevertheless, the mountaineering camp had passed smoothly and productively. Thanks to Ada Molgacheva and her web-site www.alpinist.kz, information about the camp was always aviable to the public. The ending of the session was at the Memorial, where we lit a fire and gave a tribute to ones who died in the mountains. The veterans of mountaineering Timofeeva VA, Moiseev Yu, and N. Chervonenko were also present; they gave out badges and climber's normative books to the green athletes.
The session ended. So, what's next? After the analysis of pros and cons, we decided to make another session. By that time, Sofrygin – the frosted winner, returned from the expedition. It became much easier. We again, made proposals and mailed postings. We could not count on Kazakh athletes, so we tried to attract pacticipants from other CIS countries, but either because of the bad publicity, or because of the unfortunate timing, only two girls from Moscow and the guy from Yoshkar-Ola were able to make it. Other participants were Almaty's residents and the guys from our section. Despite the small number, the school took place anyways.
It was much warmer, less snowy, and more spacious in the camp than in January. The session ended with the celebration of Masleniza; we baked and immidiately ate pancakes, and at night the statue of Masleniza was solemnly burned down. It was a great experience, and only warm memories remained in our minds after the celebration!
Now after two sessions, stopping to organize the school is like a crime. Many people have helped us, and we would like express our gratitude to all of them! They are K.Sh. Valiev, president of the federation, A.V. Timofeev, Z.S. Khalitova, and S. Ryabov. Our friends, of course, help us too: Damir Molgachev (Almaty Rescue Service), his wife Ada (www.alpinist.kz), Dima Volkov (www.mountain.kz), Sanya Golovanov, and many other friends and acquaintances, who are indirectly or directly involved in our activities!
I want to say a special thanks to our traineer Ilyinsk Yervand Tikhonovich for his continuing support and help!
It is spring now and there is large risk of avalanches in the mountains. Our branch – Kazakhstan Mountain Club spends its "weekend" trainings at Ili rever's rocks. We have already had two flieldtrips, and we are going to go there almost until the end of April to improve our rock climinb skills. We will organize the climber camp from April 29 to May 10 again, the 3rd session! It does not matter how many people will come 5, 10 or 50 people – will organize, even if no one comes..

Head of climber camp Tuyuk-Su
Seniour coach of the Kazakhstan Mountain Club
Skopin A.A.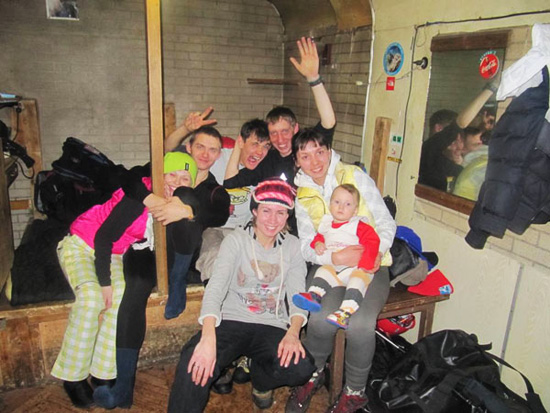 Author:

Skopin A.A.

Source:

Mount.kz