News
News archive
18 May 2009
Kazakh climber Denis Urubko has summited 8,201-meter Cho Oyu by an alpine-style ascent of the difficult southeast face, a stylish finish to his quest to climb all 14 8,000-meter peaks. The 2,800-meter face was first climbed in 1978 by an Austrian team; in 1985 a Polish expedition completed a winter ascent of Cho Oyu by a remarkable climb up the southeast pillar.
Urubko and partner Boris Dedeshko climbed a new line to the left of the Polish pillar. The two spent more than a week on the climb and descent, including sitting out a storm at 7,600 meters. They descended by the ascent route, taking three days, the last two without food.
See Russianclimb.com for the initial report.
Earlier this year, Urubko completed the first winter ascent of 8,462-meter Makalu in Nepal with Simone Moro.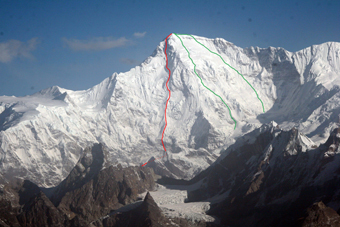 The 2,800-meter-high (9,200-foot) southeast face of 8,201-meter Cho Oyu, on the Nepal-Tibet border. The red line marks Urubko's planned route on Cho Oyu; he and his partner deviated "not so much" from this planned line in the final 600 meters. Green line in center: the Polish route from the winter of 1985; green line at right: the Austrian route from 1978. Photo by Simone Moro




Source:

<a href="http://www.climbing.com/" target="blank">www.climbing.com</a>

Mountaineering news