News
News archive
27 April 2009
On Saturday 25 April the second stage of the Speed Climbing World Cup was won by the Russians Sergey Abdrakhmanov and Anna Stenkovaya. Qixin Zhong from China set a new world record of 7"22.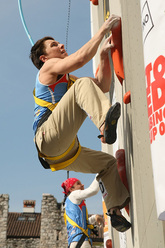 The second stage of the Speed Climbing World Cup took place in the center of Italy's Trento yesterday as integral part of the 57th annual FilmFestival and was won by the Russians Sergey Abdrakhmanov and Anna Stenkovaya. 42 athletes lined up for the morning's qualification round, which produced 32 athletes for the next round. The time required to qualify was extremely quick indeed and this proved fatal for champions such as Olena Ryepko and Evgeny Vaytsekhovsky, winner of the World Cup 2008.
In the quarter finals an amazing Qixin Zhong proved why he is the fastest in the world to climb 15 vertical meters and he reduced his world record to 7"22. It seemed as if he would stride to victory in Trento, but things turned out differently: the Chinese slipped slightly in the Semis and enabled strong Komondi from Hungary to qualify for in the final. In the end gold went to 19 year old Abdrakhmanov who dominated the final and impressed truly with complete dominance.
In the women's competition Edyta Ropek stood little chance: last year's winner of the Speed World Cup had to make way to Russian Anna Stenkovaya who, in order to reach the final, had to beat the fastest in world, Chunhua Li from China. By winning in Trento Stenkovaya doubles her 2009 success, after victory in Poland a week ago.
All the best will return to Italy on 2 August for the highly anticipated Speed Rock in Valle di Daone. The competition wall is as always one of the most difficult and spectacular: 25m high instead of 15 and not at sea level but at 1800m. For the record, during the warm-ups in Trento some athletes broke the 7 second barrier: this shows how much margin for improvement there is and, importantly, how important the competition pressure is as not even the slightest of errors are allowed!
Results IFSC Speed World Cup Trento 2009:
Men:
1) Abdrakhmanov Sergey (RUS)
2) Komondi Csaba (HUN)
3) Zhong Qixin (CHN)
4) Kokorin Stanislav (RUS)
5) Stenkovyy Maksym (UKR)
6) Hroza Libor (CZE)
7) Sinytsyn Sergey (RUS)
8) Zhang Ning (CHN)
Women:
1) Stenkovaya Anna (RUS)
2) Ropek Edyta (POL)
3) Li Chunhua (CHN),
4) He Cuifang (CHN)
5) He Cuilian (CHN)
6) Alexeeva Ksenia (RUS)
7) Blanco Lucelia (VEN)
8) Gaydamakina Alina (RUS)
Source:

www.planetmountain.com

Climbing news