Routes and maps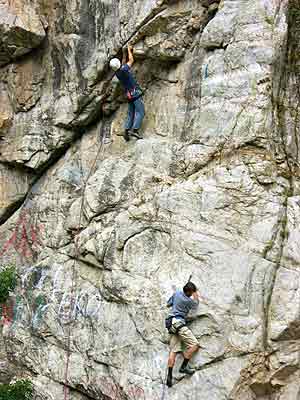 More then 500 rock climbing arreas is known in Spain. Less then 20 rock climbing arears are in Siberia.
We all can envy Almaty climbers, who have perfect rock climbing areas in the city. One of them is "Asian Rocks" witch are between "Prosvyachenec" and "Medeo". You can go there by bus.
Interest in rock climbing increase on the last time and the problem of rout classification appears in the last time. By the way, the climbing with the overhead safety construction is not popular now.
I've got some experience in climbing the routs, classified from 5b till 7b+ in Siberia. So, I think I can evaluate routs it "Aziat".
The massif is monolith and has 2 perforated lines. The perforation (metolius) make climbing comfortable and safety. All points are convenient for climbing. Unfortunately I don't know the author and the original name of the routs.
So, my appreciation:
The "right route" 15 meters, 5 draws, category F 6a+
The "left route" 18 meters, 6 draws, category F 6a
I noted that there is an opportunity to make several new routs on this massif.
Author:

Dmitriy Salnikov (Tomsk)/ Translated by Tatiana Salamakhina

Rock climbing routes