Persons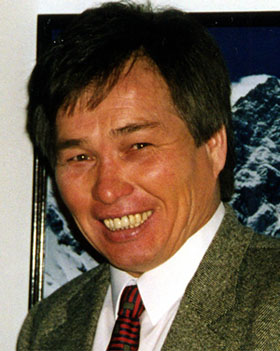 Date of Birth – 05/07/1952
• Honored Master of Sports of the USSR,
• Master of Sports of the USSR of international class,
• Merited Coach of RK in mountaineering.
Started climbing from October 1969 at the sports club of the Kazakh Polytechnic Institute as a student of the 1st course of the geophysical faculty. A 1974 graduate of the Kazakh Polytechnic Institute, Department of Geophysics, where he worked until 1978 as a research assistant.
From 1978 to 1990 he worked in the Laboratory variations of geophysical fields on the Institute of seismology from Academy of Sciences KAZ.SSR.
In 1986 he defended his thesis on the topic "Earth tides" at the Siberian Branch of the Academy of Sciences of the USSR (Novosibirsk).
Coach – honored coach of the USSR Ilinskiy E. T.
• From 1972 through 1990 a permanent partner Valery Hrischaty ligament.
• In 1978 he became a master of sports of the USSR in mountaineering. Repeated champion of the USSR.
• Since 1980 – member of the USSR team.
• 1989 – captain of the USSR team.
• In conjunction with Valery Hrischaty – the first Kazakh climber on Everest 8848 meters at the South-Western wall – in the night of 7 to 8 may 1982 – as part of the USSR team. First ascent.
• Awarded the order "Friendship of peoples" and "Kurmet", the medal "For Labor Valor", the Jubilee Medal of the King of Nepal "50 years of conquering Everest."
• "Snow Leopard"
From 1974 to 1990 made 22 ascents to the peaks of Victory 7439 m, Khan Tengri 7010 meters, Communism, 7495 meters, Korzhenevskaya 7105 meters, Lenin 7134 meters.
The organizer and expedition leader of the national team of Kazakhstan in the Himalayas:
1990 spring, Everest 8848 meters. the North–East. comb together with Japan.
1990 Manaslu 8163 meters East wall, together with Italy and the Czech Republic.
1991 Dhaulagiri 8167 meters of the Western wall – the 1st Kazakh Himalayan expedition.
1995 Manaslu 8163 meters, the winter classic.
1996 Cho Oyu 8201 meters. classics together with Japan.
Since 1990 – General Director of travel Agency "Khan Tengri".
Since 1996 – President of the National Mountaineering Fund of Kazakhstan. On the initiative of the Foundation in 1999. built the memorial "the deceased in the mountains"; from 2001 to 2005 20 climbing walls in 7 regions and cities of Kazakhstan were built and donated to schools.
Since 2001 – Vice-President of the Mountaineering and Climbing Federation of Kazakhstan.
Significant ascents:
1. 1982 – in conjunction with Valery Hrischaty – the first Kazakh climber on Everest 8848 meters at the South-Western wall – in the night of 7 to 8 may 1982 – in the USSR team. First ascent.
2. 1988 – as part of the international expedition ascended the peak of Dhaulagiri 8167 meters at the South-West ridge in Alpine style, in conjunction with Yuri Moiseyev and Zoltan Demian (Slovakia). First ascent.
3. 1989 – ascended to the main summit of Kanchenjunga 8586 meters.
Significant ascents in the mountains of the former USSR:
1. Communism Peak 7495m. on buttress SW wall, 6A, 1977
2. Zindon Peak 4800m. across North Wall 6A, Head.1978
3. Peak Dzhigit 5170m. on North. Wall, 6A, 1978
4. Peak Russia 6875 m. In the center of the South. walls 6B, first ascent, 1979
5. Communism Peak 7495 m. To the center of the south-west. walls, head, 6B, first ascent, 1980
6. Peak Taj. GU 6183m. in the center of the East. walls 6A, first ascent, 1983
7. Peak Victory on North. Wall, East. peaks, 6B, first ascent. and traverse from the East. to the West, 1984
8. Kyzyl Asker Peak 5842m., NW Wall, Head 6A, first ascent, 1985
9. The peak of A. Blok is 5239 m. in the center of west wall, head, 6A, first ascent, 1986
10. Khan Tengri Peak along the Southern Wall and Marble Edge, 6A, 1986
11. Peak Victory Traverse from the west to the east. Peak of the Military Topographers 6873 m, head. 1988

Climbers